Vitri-Forms' Founding and Early Years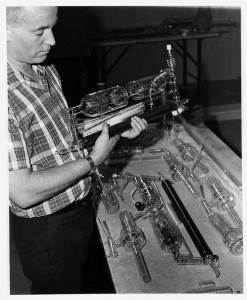 Vitri-Forms, Inc. was founded by Lawrence Nelson in 1961.  Nelson was born in Wilmington, VT and trained in Electrical Engineering at Northeastern University in Boston.    It was while he was at Northeastern that he encountered glass blowing.
During a work-study program at MIT, he was employed as an apprentice glassblower and came to love the work.  After completing his apprenticeship, he stayed on at MIT as a professional glassblower for the next 13 years where his expertise allowed him to create glass components for Lincoln Labs as well as one of the world's earliest computers — the room-sized Whirlwind I.
In 1961, after over a decade of work in the scientific glassblowing field, Nelson returned to Vermont with his wife Nathalie, also a glassblower.  There he founded Vitri-Forms, Inc. in the basement of his house.  After three years of building a home business, Nelson rented a floor of a building in downtown Brattleboro and set up shop for the next 35 years.
Vitri-Forms Today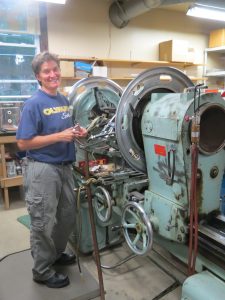 Today, the workshop is located on 60 acres of land owned by Nelson's daughter Heather in Halifax, VT.  But although the years have brought changes to the Vitri-Forms company, their commitment to quality has not faltered.
Heather is now the company's sole owner.  As company president, she is deeply involved in day-to-day operations, working directly with customers during design, prototyping, and production phases.  No middle man at Vitri-Forms!
Heather started tinkering with glass when she was 10 years old and has been working with glass ever since.  Her first childhood job was cutting test tubes at her parent's workshop.  Today, after nearly 50 years of experience, she is considered a master glassblower.
Other Projects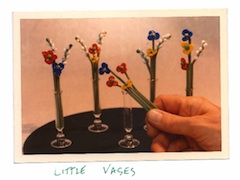 In addition to the many thousands of science, laboratory, and industrial components Vitri-Forms has produced, they have an arty side.  Some of their jewelry items and specialty bottles have been displayed in such high-end stores as Tiffany's, Cartier, Neiman Marcus, and others.  The glass flowers shown at left were created by Nathalie Nelson to show at local fairs.
One specialty item Vitri-Forms has produced for a variety of customers is glass ribbon jewelry.  The glass ribbon pendants distributed at the Latin Grammy Awards were manufactured by Vitri-Forms.

Vitri-Forms remains a family business as well as woman-owned. Both Lawrence and Nathlie Nelson worked at Vitri-Forms well onto their 80's.  Both have since passed at the ages of 93 and 87, respectively.  We proudly carry on their legacy.