Vitri-Forms at the 4th Annual Latin Grammy Awards

We were proud to be selected to manufacture green glass Awareness Ribbons for Heineken USA. Heineken, a sponsor of the Latin Grammys, began this green ribbon project with salsa star Celia Cruz in April 2003, prior to her death in July of that year.
The Heineken Green Ribbon Program is part of a national effort to raise awareness and funds to support music education programs. The ribbons were given to attending celebrities, music talent, music industry professionals, and media personalities to wear at the award ceremony. The Celia Cruz Foundation is a non-profit organization dedicated to raising funds for underprivileged students who want to study music. Vitri-Forms is proud to have been a part of this worthy event.
Custom Art Glass & Jewelry

Glass Teardrops, among other shapes, are blown and have been filled with crushed genuine opal or amethyst and glycerin for a beautiful floating effect.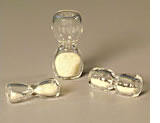 We also have manufactured a number of shapes and sizes of blown glass hourglasses that have been filled with sand, coral and diamond dust. All blown glass pendants are filled with customer supplied materials.
Ribbon "Awareness" Jewelry
If your organization is considering a commemorative art or jewelry piece, our designers are available to help you develop something that's truly memorable. We also produce custom glass components for jewelry manufacturers to incorporate into their pieces.
Please contact us to learn more!
Be sure to see the beautiful jewelry created by the talented Lisa with our products at Lisa's Jewelry Creations
Special Breast Cancer Awareness Ornament
Aids Awareness Ribbon

Breast and Ovarian Cancer Awareness Bar Pin

Patriotic Necklace And Earrings

Ovarian
Cancer
Awareness
Ribbon
Custom Awareness Ribbons and Special Jewelry Ensembles are hand crafted for your organization and cause.
Contact us today for more information

Heineken
Green Ribbon

Yellow
"Support Our Troops" Ribbon

Breast Cancer
Awareness Ribbons

We also offer custom hand engraving on ribbons!