Complete facilities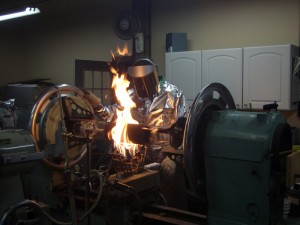 The facilities at Vitri-Forms include large and small capacity lathes, annealing ovens, melt ovens, machine shop facilities, vacuum processing systems, a chemistry laboratory, and cold working equipment. Equipped with everything they need to do highest quality glasswork, our staff of experienced glass workers are up to any challenge.
Precision lathe tool work
Vitri-Forms' highly skilled glassblowers can manufacture your products with the utmost precision. Every piece is carefully manipulated using tools, jigs, molds, a steady set of hands and a good pair of eyes.
Molding
Unique to Vitri-Forms, is a glass molding division. With our 50 lb. capacity melt oven, we are able to mold and press molten glass in the shape of your design. We melt primarily clear recycled glass, though many colors are available. Most of our molds are machined using gray cast iron or graphite. We offer a chemical strengthening process, which increases the resistance to thermal shock. Small borosilicate molded pieces are within our capabilities as well.