Repairs on glass apparatus can be made at a fraction of the cost of new.
At Vitri-Forms, we can repair or refurbish most glass apparatus in both borosilicate and quartz.  You can send us a sketch, photograph or the actual broken glassware, and we will give you an estimate for its repair.
In addition to repairing medical, scientific and other industry-specific apparatus, we can refurbish, repair or reproduce most glass pieces, as well as help you determine which approach is best for your piece.  These are a few examples of the glass repair work we do:
Dairy Jar Repair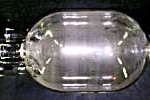 We repair weigh jars and receiver jars of all makes and models.  Repairs include:
Pipe Caps and Nipple Replacement
Small Crack Sealing
Bent Glass and/or Slumped Glass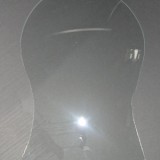 We use both clear borosilicate and clear or colored high expansion glass, glass sheets and plate glass to reproduce antique glass parts.  We have developed our own proprietary technique for slumping bubble glass for antique clock faces and picture frames.  If you have a sketch, sample blank or frame we can make a mold to bend or slump your finished product.  The photo above is of a reproduction antique grandfather clock face.
Lamp Shades and Chimneys – New or Refurbished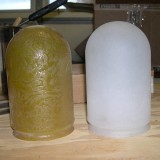 In addition to repairing broken antique shades and other pieces, we refurbish antique glassware to restore it to its original condition.  In the photo above you can see an example of sandblasting as a way to make an old shade look good as new.
We produce new lamp shades and reproduce antique lamp shades of all shapes and sizes in borosilicate glass.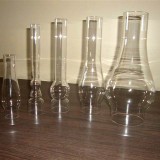 Our borosilicate shades are far more heat resistant than most original shades, which were made from soda lime glass. This makes our replacement shades more durable than the originals.  Contact us today for more information.