Borosilicate and quartz tubes and components made to your specifications.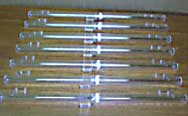 We manufacture laser tubes and components from both borosilicate and quartz glass.  Vitri-Forms specializes in CO2 tubes and components for many medical, industrial, research and scientific industries.  We work in all lengths and diameters, and can include anodes and cathodes.  Our final step, for some laser components, is vacuum pumping to ensure that each tube is leak free.   Contact us today to discuss your product needs.
NOTE: The majority of our work (including laser tubes and laser components) is protected by strict confidentiality agreements.  We take this very seriously.  Therefore, we cannot share photographs of the majority of the work we do.