Hand-tooled Custom Lamp Shades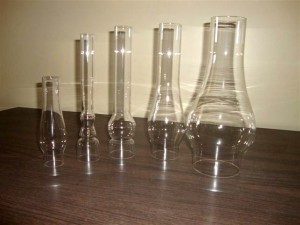 We produce new lamp chimneys and lamp shades of all shapes and sizes in borosilicate glass.  We also reproduce antique lamp shades.
We have manufactured shades from 1" to 12" in diameter and 3" to 30" in height.  The fitter ends can be made very consistent and within +/- 0.025" tolerance.
Just send a sketch or even a broken original, and we will take it from there.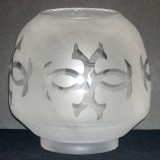 We will spec it out, and make a drawing and a tool, if necessary.  Tools are very commonly needed when multiple chimneys are manufactured.  Vitri-Forms has a small machine shop division, where we make our own tooling.  This significantly helps keep customer costs to a minimum.
Because our chimneys are made with borosilicate glass, they are far more heat resistant than most original shades, which were made from soda lime glass. This makes our replacement shades more durable than the originals.   Contact us today for more information.
We receive many inquiries from The Lamp Guild of America.  Check them out at  www.lampguild.org.