The Possibilities Are Endless.
Sandblasting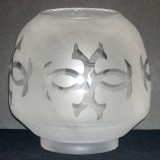 Complete surface, partial masking or custom design is available for sandblasted glass pieces.  This photo is a reproduction of an antique lampshade for an oil burner.  After reproducing the shade, the sandblast design was replicated from the original.
Bent Glass and/or Slumped Glass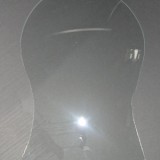 As shown on our Repairs and Reproduction Page, we manufacture slumped and bent glass parts for all industries and applications. We can slump or bend clear borosilicate glass, clear or colored high expansion glass, glass sheets and plate glass. We have developed our own proprietary technique for slumping bubble glass for antique clock faces and picture frames. If you have a sketch, sample blank or frame, we can make a mold to bend or slump your new piece or reproduction. The picture below is of a reproduction antique grandfather clock face.
Quality Sapphire Components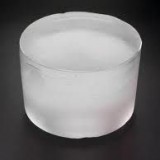 Sapphire is described as a single crystal – Aluminum Oxide (Al2O3) – which is colorless and optically clear. Sapphire is mechanically second only to diamond and one of the hardest and most scratch resistant materials available.  It is one of the most sought after optical materials in the industry today and Vitri-Forms has the competitive pricing you need on quality sapphire windows.
Production cutting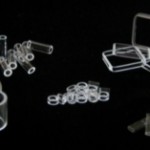 Production cutting of cells, spacers, beads, cases, blanks, cylinders, and tubes for all industries.  Pieces can be finished with either ground or polished ends.
Glass-to-Metal Seals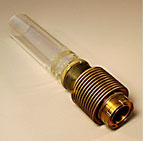 We manufacture parts with glass-to-metal seals in copper, kovar and tungsten.   Our customers include industrial, colleges and universities science departments, and research and development labs.
End Finishes
Flanges, flares, beads, ground surfaces and firepolished surfaces are all available in many different sizes.  Tooling can be made for these end finishes in our  in-house machine shop.
Machining
Machining capabilities include whole drilling, grooves and stepping.