We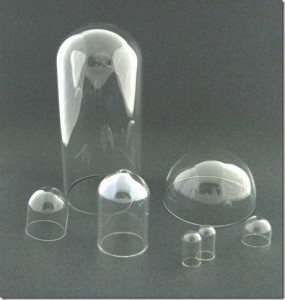 manufacture custom glass lenses and domes in both borosilicate and quartz glass.  Our glass domes are blown, not tooled, which means each piece is shaped by eye, eliminating lines and imperfections common with tooled pieces.
Our domes are used to protect and display everything from museum pieces and gemstones to engine sensors.  Our lenses are primarily used for light covers, and can be treated with sandblasting or color to diffuse or change the quality of the light.
Other optional processes include masking and conductive coatings.  As with all of our products and services, our glass lenses and domes are carefully hand crafted to meet the highest industry standards, regardless of the quantity ordered.
Please click here for a complete list of Industries Served.